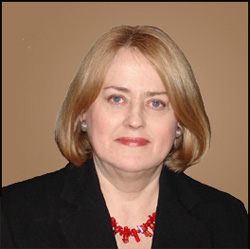 Dottie Gatewood, GRI, CRS CRB
Managing Broker
Born in Lexington, KY and graduated from Lafayette High School. After moving to Frankfort she graduated from Ky. State University with a BS in Business Administration and a Master's Degree in addition to teaching real estate classes at Ky. Junior College of Business.
Dottie and her husband, Tom, have one son, Ryan, that sells real estate in Louisville, Ky. She became a Realtor because of her love of working with people and her long history of Real Estate due to her father's profession. He was a builder and when she was 9 years old she sold her first house-one that he built. Dottie has bought and sold real estate for rentals and fixer-uppers to resale as a hobby and investment. Having successfully renovated several homes in Frankfort she is able to offer buyers personal experience with the local construction industry. Her unusual combination of design and construction combined with her innate attention to detail enables her to work successfully with a diverse range of buyers, carefully determining their needs, locating their perfect home, negotiating a fair deal, guiding them through the purchase process, and finally concluding with a smooth closing. Dottie has built a reputation for client satisfaction, and is devoted to making your move as easy as possible. You will have the added benefit of working with an experienced agent who understands your needs when buying, selling, or relocating. Finding the right home is only the beginning. Dottie will assist you every step of the way to ensure smooth sailing.

Specializations
Resale
Referral Service
First Time
Mini-farm
Construction
Relocation companies
Hobbies
Reading
Sewing
Gardening
Spending time with her family
My Listings
Associations
Lexington Bluegrass Assn of Realtors
Ky Assn of Realtors
National Assn of Realtors
Graduate Realtors Institute (GRI)
Certified Residential Broker (CRB)
Certified Residential Specialist (CRS)
Past Director, Frankfort Board of Realtors
Contact Information
Office 502-695-5555
Mobile 502-330-7377
Fax 859-294-3319
Voice Mail 859-294-3319
e-mail:Dottie@GatewoodRealty.com